Clinically Proven Effective Ingredients*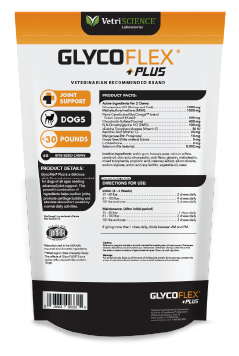 Perna canuliculus, otherwise known as the green-lipped mussel, is the foundation of our formula; nature's perfect blend for joint support. And we've been trusting it for our dogs for over 40 years.
DMG supports your pet's overall comfort and performance by enhancing circulation and efficient oxygen utilization.
ANTIOXIDANTS
Plus more
Vitamins C, E and other nutrients like manganese, selenium, and grape seed extract play a critical supporting role in helping glucosamine and chondroitin do their job effectively.
Glucosamine, like chondroitin, is a critical nutrient for building healthy connective tissue.
A natural component of your dog or cat's connective tissue matrix, chondroitin sulfates help support the structure and integrity of those tissues, promoting joint flexibility and overall mobility.
MSM is a sulfur compound found naturally in your pet's body. As part of GlycoFlex®, it supports many bodily processes, like the process of collagen synthesis.
It's a whole food organism—a mussel from New Zealand—and it's a natural source of chondroitin and glucosamine. Perna is rich in a multitude of substances like amino acids, minerals, fatty acids, vitamins, and glycoproteins. And we've been trusting it for our pets for over 40 years.
Why We Love Perna »
Proven ingredients,

to support joint health.
GlycoFlex® Plus, an advanced joint support supplement for dogs of any age, is clinically proven to increase hind leg strength up to 41% in just four weeks.* It combines glucosamine, chondroitin, Perna, DMG, MSM and important antioxidants to support your dog's everyday motion and comfort.
| | | |
| --- | --- | --- |
| | | |
| Glucosamine | x | x |
| MSM | x | x |
| Chondroitin | x | x |
| Perna | x | |
| DMG | x | |
| Vitamin E | x | |
| Vitamin C | x | |
| Manganese | x | x |
| Grape Seed Extract | x | |
| L-Glutathione | x | |
| Selenium | x | |