Perna Canaliculus is a green-lipped mussel farmed in New Zealand. Perna is rich in:
Natural Glucosamine: A key building block for healthy cartilage
Chondroitin Sulfates: The principal component of cartilage – the shock absorbers for joints
Hyaluronic acid: Necessary for maintaining the proper viscosity of synovial fluid surrounding the joint
Essential Fatty Acids: A natural anti-inflammatory which is not produced by the body
Amino Acids: Perna contains all 21 essential and non essential amino acids – the building blocks of all bodily tissue
Minerals: Important cofactors for bone and cartilage health

PERNA PROVIDES
57
NUTRITIONAL
FACTORS
that are needed for joint comfort, mobility and repair
is more than joint support.
Brain health
Skin support
Heart health
Eye health
Cellular protection
Free-radical fighters
Building blocks for all bodily structural components:
Skin
Bone
Cartilage
Organs
Glands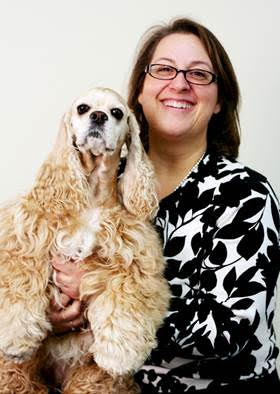 Dr. Elizabeth DeLomba is the chairperson of our Veterinary Advisory board. Dr. DeLomba is a veterinarian with 16 years of private clinical experience at a companion animal practice. Her experience also extends to the veterinary pharmacy industry where she's held several positions throughout her career.

Dr. DeLomba received a Doctor of Veterinary Medicine (DVM) from Michigan State University and a Master of Business Administration (MBA) from Villanova University. Aside from her responsibilities at VetriScience, Dr. DeLomba works as a consulting veterinarian and board member at Vetco, a nationwide chain of wellness clinics. She also serves as a relief veterinarian in the Annapolis, MD area.

Dr. DeLomba is a current faculty member at PharmCon, which provides continuing education to pharmacists. She also taught in the Veterinary Assistant Program at Anne Arundel Community College. Previously, Dr. DeLomba served as the Director of Veterinary Services at VetCentric, where she published over 50 articles in a weekly newsletter for vets.

Dr. DeLomba is an active member of the AVMA and the American Association of Veterinary Pharmacology and Therapeutics. She offers a wealth of knowledge and experience in the field of companion animal medicine with a focus on nutrition and pharmacology.

Why should I give hip and joint supplements to my pet?
Can I just give my pet an over-the-counter Glucosamine supplement?
What's so special about GlycoFlex™?
Does GlycoFlex™ actually work?
When should I start giving my pet GlycoFlex™?
Should I consult my veterinarian before giving my pet GlycoFlex™?